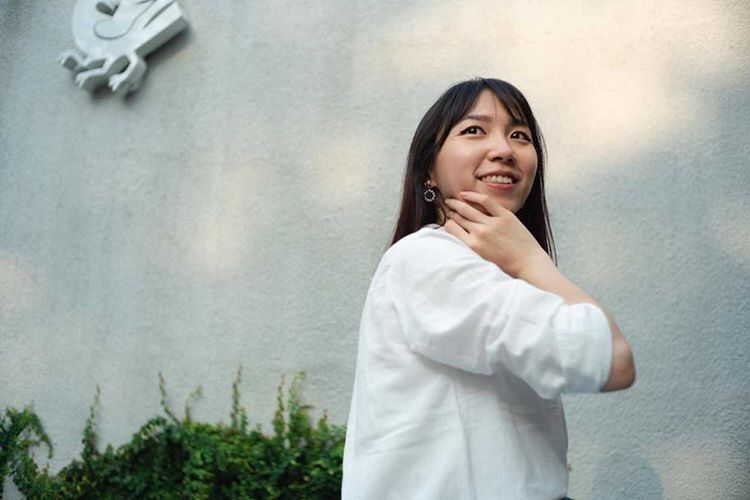 Building a Fashion Startup by Learning Digital Marketing
When Amanda started the RevoU Digital Marketing program, she was working at a private bank. Upon graduation, she left the job to pursue her dream of building her own sustainable fashion startup.
When Amanda started the RevoU Digital Marketing program, she was working at a private bank. Upon graduation, she left the job to pursue her dream of building her own sustainable fashion startup.

Amanda has a diverse background. She graduated with a bachelor in economics from Universitas Pelita Harapan and worked as a fashion designer for 3,5 years before resigning due to ethical issues. She then worked full time in a Korean Bank as a strategic planner. In this job, Amanda's role mainly revolved around data and analysis. Even though she did well, she didn't find enjoyment in most aspects of the role. What often excited her was when she got asked to work on projects for the marketing department. She often delivered remarkable ideas, which the department then implemented. Her potential as a marketer was evident not only to her but also to her coworkers.
I have good marketing sense, but I did not have the skills (yet)
One afternoon, Amanda saw an ad on Instagram for RevoU that said, "Would you like to launch a career in marketing?" which read her mind. She opened revou.co and applied for the digital marketing program. She was faced with a series of admission tests, which made her feel assured that she would attend classes with other students who have gone through the difficult screening process. She believes that choosing an educational institution should be taken as seriously as applying to a top-tier university; you must be aligned with their values and how they teach. While working on her admission tests, she also reached out on LinkedIn to a RevoU Alumni, Putri R. Saragih, to get some insights on life at RevoU. Their conversation convinced Amanda that her decision to invest in the program is something she will not regret.
Life at RevoU
The curriculum is very intense, but the learning modules and quality of instructors were beyond my expectations
Amanda started her digital marketing journey with batch 3 in June 2020. In the beginning, she felt very challenged because the curriculum was very dense. In 3 months, she learned full-stack digital marketing, including measuring performance and budgeting, marketing analytics, Google and social media ads, Search Engine Optimization (SEO), content marketing, social media management, and even Customer Relationship Management (CRM). For Amanda, the program was essential to have a foundational understanding to launch and grow her digital marketing career. She was very impressed by all of the instructors, who had full-time jobs and worked for some of the top tech companies in Southeast Asia, such as Grab, Traveloka, GoJek, Tokopedia, and Bukalapak. She was able to interact directly and learn from their years of experience.
One of the most memorable moments in Amanda's journey was her study group experience. At first, she was not happy with the arrangement, as she considers herself to be a self-learner. She worried that any incompatibility with other team members would interfere with her progress. However, her team lead, Putri, helped her change her perspective. She said, "Teamwork is a simulation of real work. You might not like everyone, but you still have to figure out a way to work together." Amanda then shifted her mindset and used the opportunity to practice working within a "marketing team" and learn to work well with others regardless of the difference in characters and motivations. She managed to collaborate well beyond her initial expectations during the 3-month course.
Not only technical skills, but I also learned interpersonal skills on a practical and intense level. Usually, an online course provides you with independent learning, where you can work alone. But here, we are trained to be able to adjust to working together with people from different backgrounds, and it turns out to be an exciting, and essential, learning experience
Amanda was able to expand her professional network through the RevoU community. She is now connected with many leading digital marketing practitioners throughout Southeast Asia and peers growing their respective careers in the digital industry. This network will benefit her as an entrepreneur and open up collaboration opportunities in the future.
After completing the digital marketing course, she got the chance to join RevoU Labs and become a performance marketing apprentice at Style Tribute, an online fashion marketplace based in Singapore. She felt very fortunate for the opportunity to dive deeper into the fashion industry while putting into practice her digital marketing skills with real-life campaigns.
Life After RevoU

Amanda originally wanted to find a full-time job in digital marketing while building Purpose, her sustainable fashion startup, on the side. However, upon graduating, Amanda changed her mind as she realized she did not need to "postpone" her dream. She immediately worked on her business full time. She believes the digital marketing skills she acquired can be implemented directly into her business to generate revenue. Her experience working with a team and directly applying theoretical knowledge to real-life projects has given her the confidence to be an entrepreneur.
For Amanda, her investment in RevoU was worth every penny. She admits that in the beginning, she had her doubts because RevoU was such a new player. But as she completed the program, she was convinced that she got more than what she paid for.
You can actually apply the techniques to your business. I would recommend this course to every business owner to take this journey with RevoU. It might be painful, but it will be very fruitful for your business
RevoU - The Journal Newsletter
Join the newsletter to receive the latest updates in your inbox.
---