Whether you are considering to join RevoU, or you are already one of our Data Analytics students, it's good to know further about our instructors!
As you've heard, our instructors are industry practitioners working in top tech companies. Their hands-on experience working in data analytics has given them many valuable lessons that they would like to share to RevoU's students.

If you are curious about their background, you can read more below!
---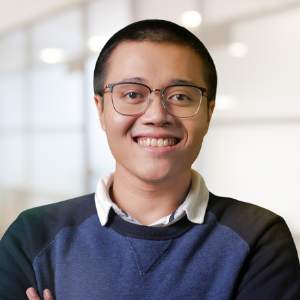 Doni Surya Putra, or usually goes by Doni, is an experienced Data Analyst with six years of experience in the data field. Currently, Doni is working as the Head of Data at KitaBisa (a donation and fundraising site for initiatives, campaigns, and social programs) as the Head of Data.
He enjoys working with numbers and loves all Big Data related topics such as Python, SQL, and data warehouse. Click here to read more.
Indah Mustikasari, or usually goes by Indah, is currently the Product Manager (Data & Analytics) at Zalora, a fashion-focused e-commerce site in Southeast Asia. She started her journey at Zalora in August 2021. Before that, Indah was the Business Intelligence Lead - Business Solutions at iPrice for more than four years. Click here to read more.
Luqman Syauqi Hidayat, or usually goes by Luqman, is the Head of Data at Mamikos - a boarding house finder in Indonesia.
Luqman has 8+ years of experience in data analytics and has 5+ years of experience in people management. He partnered with business and product leaders to solve problems using data and analytics. His years of experience have built him to have strong business acumen and analytical thinking. Click here to read more.
Mustika Aprilianti, or usually goes by Mustika, is currently the Senior Business Intelligence at Mekari- Indonesia's Software-as-a-Service (SaaS) company. She has been with Mekari since November 2019 and started as a Business Intelligence, then Data Scientist, and now Senior Business Intelligence. Click here to read more.
Vanessa Geraldine, or usually goes by Nessa, is the Chief Commercial Officer at PRIEDS Technology, also the Special Projects Senior Manager at RevoU.
She is a value-driven entrepreneur and intrapreneur with four years of experience in scientific research and four years of experience in business analytics, data, business development, and growth strategy. She is passionate about technology, data, product, innovation, education, problem-solving, strategy, growth, and social impact. Click here to read more.
Zulhans Ramadhan Maharoesman, or usually goes by Zulhan, is an experienced Business Analyst/ Intelligence with a demonstrated history of working in the startup industry. He is skilled in digital strategy, problem-solving, statistical data analysis, and data analytics. He has been working with GoPay for almost three years as the Lead of GoPay Business Intelligence Growth, Closed Loop, and Risk & Fraud Stream. Click here to read more.
---
Looking to kickstart your career in Data Analytics but don't know where to start? Apply to RevoU 13-weeks Data Analytics Program
How RevoU works:
✓ Live daily interactive online classes for 13 weeks (7–9pm WIB)
✓ Learn from the best instructors in the industry
✓ Personalised career coaching with 1:1 mentorship sessions
✓ If you are looking for a job and don't get one at the end of the Program, the entire course is FREE