Nana Sagala— RevoU Instructor | Marketing Communications Manager at Rata.id
Nana has more than 6 years of experience in PR & Digital Marketing in Indonesia, Malaysia and USA. She has worked in agencies, corporations, and now startup. Currently she is the Marketing Communications Manager at Rata.id
Nana's Profile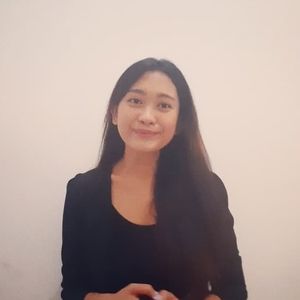 Nana has more than 6 years of experience in PR & Digital Marketing in Indonesia, Malaysia, and the USA. She has worked in agencies, corporations, and now startups.

Currently, she is the Marketing Communications Manager at Rata.id, the first Indonesian clear aligner provider. She is the team behind Rata's ads and promotions that kept popping up on your phone.

Prior to that, she was an Account Manager at Redwoods, a digital creative agency, handling Indonesian and Singaporean clients. The projects she managed revolve around company branding, social media management, website creation, design, video production, and even mobile apps.

Experienced working abroad and years in the communications field, we believe that Nana will share lots of interesting insights from the fields with you. She will be one of the instructors of RevoU Digital Marketing Program, specializing in Content Marketing.
---
More on Nana
---
Student Testimonials on Nana
"Thank you sooo much kak nana buat lecturenya! Insightful banget buat aku yg awalnya ngira bikin konten ga sesusah itu tapi ternyata lumayan juga harus nyari data kayak skripsian hehehe"
"Nana is friendly and fun. Banyak ngasih insights tentang real life experience juga di content marketing field."
"Thank you so much kak nana! Suka banget sama jawaban dan live demonya banyak ngasih insight dan bantu banget buat ngerjain assignment"
---
Questions & Answers

#1 Can you explain to us what your typical day looks like at Rata?
I actually just joined Rata about one month ago! I haven't met the team personally (sad but true) face to face. We had a view team bonding sessions, but unfortunately still virtual.

At Rata, I am in charge of marketing communications, specifically for the paid ads channels-- from the landing pages to ads, and also manage all the promotion that's happening. I make sure all the communications channels, especially the message itself, is integrated with the current promo that's happening in Rata.

#2 Biggest myths and misconceptions about Content Marketing?
(Data Driven) Content marketing is still something new in Indonesia and Southeast Asia. Probably because of the audience here, especially in Indonesia-- we are not really data-driven focus. In fact, we like entertaining content, simple, fun, but not in-depth.

Also if we talk about the myth of content marketing, people probably think that it is content with a sense of marketing only, but I think it's very broad. It can be an article, Instagram posts, or other social media platforms. Or even on Twitter, where people do micro-blog, it is also part of content marketing.

#3 Your proudest professional achievement at Rata?
Well...would you expect much in one month? Honestly speaking, even though just in a short of time, my proudest achievement is giving new insights from a new joiner perspective, which is needed, because that's how we improve a newborn startup: improving the business from outsiders eyes.

Also, another one is introducing a better workflow with automation tools. I believe that nowadays we can improve efficiency with all technologies that are offered online. Gladly, the result is proven based on the increased performance of the paid marketing that's happening right now.

#4 What drives you to work in your current industry?

I actually moved a lot during my career-- between agency, in-house corporation, freelancing projects.

I said this in my interview, the reason I now work in-house at a startup is that I want to have my own "baby". To work on something fresh, where there is still a lot to improve.

And I'm so impressed with Rata. Not because it's where I work now, no. It's because we're very fast-moving, everything is full of improvement and changing strategy.

It's not easy introducing something quite new in Indonesia - clear aligners. Although there are other brands, I can proudly say that this it's the first local, Indonesian brand. Within two years, we already have more than 20.000 patients.

I think I've made a good decision

#5 Things you wish you could have learned earlier in your career?

​​I started in Public Relations when everything was very traditional in planning, implementation, and evaluation. I was not exposed to automated tools. So, I wish I could learn about automation earlier.
I also wish I learned digital marketing earlier in my career. Not just because I'm one of the instructors at RevoU, but I felt quite behind in terms of learning digital marketing. Because everything is on the cloud, data, and performance, so this has become important.

#6 Books / Online resources you follow to remain on top of the most important industry trends and keep improving in your field (blogs, podcasts, newsletters)?
#7 Your tips for someone who is interested in starting his career in Content Marketing (aside from applying to RevoU :)?

I joined Digital Marketing without having a relevant background. I was self-taught.

How you may ask?
Try to have your own Instagram account and handle small businesses. Or offer yourself as a volunteer to manage social media accounts. Or join an internship. Create your own blog. That's what I did as an amateur.
My suggestion is before joining the course, know the basics. How to check the audience or how to target the right market. Don't go to online courses without having a goal.


#8 The fundamental skills a Content Marketing Specialist is expected to have?

Curiosity. And good with mind mapping. You need to be able to "split" a brand into several different topics.

Also, I think in both PR & Digital Marketing, you need to have a good relationship with people. Who knows, there might be connections for future projects.

Last but not least, learn to understand data.
#9 What distinguishes a good Content Marketer from a great one?

The ability to find a unique angle.
The term "Amati, tiru, lihat dari angle lain". Innovating may take more time. It's okay to take a look at the existing ones and find a different angle.

#10 Best examples of Content Marketing campaigns (outside Rata) in Indonesia?

Gojek & Tokopedia. Might not be very "apple-to-apple" since they're big companies.

Gojek is interesting because they're very database. For instance, they used to serve us with "yearly report", or "how many miles have you traveled" on the app.

They make good use of their data. And I think every business with technology, you have data.

---
Learn from Nana and other great instructors by applying to RevoU Digital Marketing program
Looking to kickstart your career in Digital Marketing but don't know where to start? Apply to RevoU 15-weeks Digital Marketing Program
How RevoU works:
✓ Live daily interactive online classes for 15 weeks (7–9pm WIB)
✓ Learn from the best instructors in the industry (such as Nana)
✓ Personalised career coaching with 1:1 mentorship sessions
✓ If you are looking for a job and don't get one at the end of the Program, the entire course is FREE
RevoU - The Journal Newsletter
Join the newsletter to receive the latest updates in your inbox.
---